[singlepic id=87 w=320 h=240 float=center]
The weekend saw 14 honorary Glaswegians descend upon Amsterdam to partake of what it's most famous for – some damn fine ultimate. It all started with an early morning rendezvous at the airport with Jonny and sufficient slagging of his farmer tan. After our flight we picked up the stragglers (I spent 5 minutes learning how to pronounce 'Knudsen') and ventured into the city where our budding tourguide Marky led us to much needed food, drinks , and some sightseeing.
On arrival at the camp we were greeted by two volunteers, one kitted out in the finest windmill attire and equipped with enough beer tokens to satisfy the team (Jess), and another who looked very hard done by and lacking in any 'freebees' (Benji). Eventually the gang were all united and in the scorching heat the tents were erected, this was looking to be a promising weekend.
Feels like beer o'clock
Off to Lidl (pronounced Lee-dil or Lie-dil depending on your upbringing) we went, to stock up on beer and nibbles. The night began with drinks, plenty of craic and the tenth anniversary opening ceremony. Sampling some local baking had questionable effects. This was followed by late night karaoke in the bunker: Graeme and Phil's opening number 'Under the Bridge', Mattloaf with 'Bat Out of Hell', and finally the power duet between Audrey and Chris – the classic 'You're the One that I Want'.
To the fields
After a good nights partying and minimal hangovers, Glasgow were ready for their opening game of the weekend.
Game 1: Chilli – O. We travelled all the way to Amsterdam to play another team that live on our doorstep! The game started with both teams trading points for the first half, chilli – O using some quick handler passing and 'give and gos' to open up some successful deep options. In the 2nd half Glasgow started to gel better, playing much cleaner offense and converting vital D points to finish the game 13-11.
Game 2: Codfish Vineyard. This was essentially a game of runs, with codfish taking an early lead before Phil gave us a kick up the arse to go on a streak of our own and close the game to finish a tight 1st half. Both teams were working hard on zone and the 2nd half saw Glasgow coming out on top before Codfish could return the favour to tie it at 12-12. Glasgow had the disc on universe point, unfortunately miscommunication led to a turn with a short field to work with. After some great resilience from Glasgow, Codfish took the game with a glory hammer to finish 13-12.
Game 3: Element. From grass to the warmest 3G pitch imaginable! Glasgow made uncharacteristic errors that led to a poor start giving the Israeli team a 6-2 lead. A tactical timeout was called and the appropriate inspirational words delivered, followed by a show of on-pitch determination by a few players. This focused the team and we began to claw back the deficit. However the Israeli's stepped up their game and went on to win a hard fought universe point, final score 14-13.
Game 4: Thundering Herd. Glasgow used the momentum from the Element game and came out fighting against the cows. We took an early 5-1 lead and maintained it throughout the game, with some excellent D on herd's cutters and awesome hucks taken down by Audrey and Graeme. We finished with a comfortable win 15-11 and early beer showers.
Friday PARTY
The usual round of mixed showers was followed by strange delicious food and some weird sausage on a disc (or plate if you were lucky enough to possess one), with pre-drink games and a bit of mingle mingle the foundations were firmly set for another wild Glasgow night at Windmill. The "Groundhog Day slumber party" was attended where basically everyone went to watch Groundhog Day and fell asleep on the beanbags in the bunker.
Day 2
Game 5: Vaasa Saints. Credit where credit is due, this Finnish team had some of the best girls of the tourney, with the hucking ability any Glasgow open player would be jealous of. We got played off the park by this team as we were quite unprepared. 15-9 in the end to the Saints.
Game 6: UFO (Utrecht). Probably one of Glasgow's best performances, taking the scalp of a club worlds squad was fun. The girls really stepped up in this game with great handling from Jess and Lulu against UFO's zone, coordinated perfectly with Benji, setting the precedent for how Glasgow would play zone offense throughout the rest of the tourney. Audrey made some great catches in this game alongside strong cuts from Andrea and Nicky, the girls showed how mixed should be played. As for the game all the highlights I can remember are Game started- tubby got sky'd by a small girl for the score- game end, 13-10 to Glasgow.
Game 7: Rusty Bikes. This game was similar to the previous, hard fought, well spirited but special credit to Marky who really took control of this game. Glasgow stormed ahead with a clinical win 15-9.
Never have I ever…
Time for the Saturday night party where chaos ensued! The night began with a choice of meals, I had the pizza and pasta salad and swear it was the greatest thing ever. Usual antics followed with fives, never have I ever (story of the night, Phil and the fridge urinal/ strip tease for his parents) (Also Benji you are such a lad) 21 with the hardest rule ever imposed whilst Matt and I were away, and even though Knudsen knew the rule he still couldn't figure it out! The night was topped off by Karaoke mit ze Germans singing 99 Luftballons, then disco times in heaven. Shout out to Alison and Matt for successfully partying through the whole night!
Day 3
Final game: Outernationals: A musical warm up with stellar moves from both sides (especally our own Nicky Shaw). A physical game ensued with Glasgow able to shrug off their Saturday night hangover first. We absolutely demolished this team 14-7. boom. A very hungover (actually still drunk) Matt Scott entered the pitch at 12-7 and got an amazing D, was subsequently almost sick and declared his contribution to the game over – very efficient. A fitting game of German pornstars followed, with Matt and Benji dubbed the kinkiest players.
The remainder of Sunday was spent watching some top class Frisbee finals, packing up our stuff and saying toodle oo to Andrea who played amazing the whole weekend (Please don't leave next year, do another PhD, GLASGOW NEEDS YOU). Sunday night, fairly knackered so an early night and good lie in for most, while a few ventured out to see what Amsterdam had to offer.
Apres Tournament
Tubby had a great idea to rent bikes and go north of the city, so six of us ventured onwards in search of windmills, canals and a town in the arse-end of nowhere that didn't even have a café open!! Highlights were the tandem bike, randomly bumping into Andrea post Van Gogh, Marky almost killing us on the bike, Jonny riding the tandem solo, Nicky's catching skills during hacky sack, the 'early leg', Knudsen's use of 'the ready leg' and Jess' second pair of trousers ripping. That night saw more beers and a revival of 21, "Whoa look at Jonny's forearms", "Whoa look at Jonny's ass", "Jonny did you just calve?" the weary players were rewarded with an amazing night of live music, cheap Jaegermeister's and intimate heart to hearts with PWebb.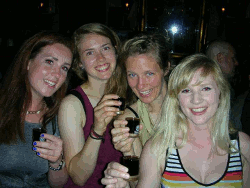 The need for food is a really strong motivation after a night like that – Marky and Knudsen attempted to strongly persuade the local subway that they really were open at 4am, Audrey needed emergency spaghetti carbonara just to walk straight the next day.
MIP (F) Lulu
MIP (M) Chris D
MVP (F) Audrey
MVP (M) Philip
Captain's MVP Marky
Honorable mentions :
The early/ready/delayed leg goalhack variations
Georgie's support on the pitch and in the parties!
[singlepic id=90 w=421 h=432 float=]
Report by Lulu.