The first round of fixtures are done and dusted, we got a taste of big pitch indoors for the first time and Iron Mandelas have announced themselves as the team to beat. Games were competitive, well spirited and full of big plays, even if it was a bit more tiring than regular indoors.
Video highlights:
Match reports:
Pirates vs Farflung
Farflung started brightly against Pirates, trading up then taking the first break to lead 4-2, their girls striking deep for the majority of their scores with spicy endzone grabs from newbie Nicole Wang and Briana Weisgerber. Pirates were able to counter by throwing a zone to slow down Flungs slick offense in a tight first half battle where the Pirate's veterans struggled to find their sea legs and Farflung allowed their new stars to shine. The Glasgow uni freshers were particularly impressive, cutting like seasoned pros, relishing the opportunity to play with some of the first teamers. Eliza Paynel slotted seamlessly into the Farflung ranks taking on plenty of responsibility as a cutter and thrower, showing how much those early morning training sessions have paid off. Pirates Cap'n Nicky Shaw made an astute tactical change on defense to shut down Flungs potent female threat and the Pirates were able to go on a run to take half. Slick handling and sharp cuts kept Farflung in touch, but the game took a decisive turn when influential handler Iain Campbell glankled and the Flung men were forced to play savage. The Pirates steadied the ship and sailed to a 13-7 victory.
Big Cats vs Iron Mandelas
Meanwhile on pitch 2… The Big Cats were looking to start the season with a show of force. Three hucks in the first three points showed the Iron Mandela's that the Big Cats were here to make big plays, it's a shame all three fell incomplete. Mandelas started dominantly, knowing that the only way to kill a Cat is to catch it sleeping. They approached the match the way Tony Stark approaches a free bar: hard, and with purpose, their streamlined squad taking control, using their familiar connections to great effect and racking up a 6 point lead. A combination of hefty wall-tickling hucks, springy receivers and surprisingly good Ultimate (don't lie, you were all surprised) had caught the Cats napping. Once the excitement of playing full pitch indoors had worn off the Cats extended their claws and started to put up a fight. Ali Brown and Christine Duncan imposed a more patient style of offense, waiting for the right opportunities to find Cammy Mackie and next-gen star Marta Casero striking long. Though the Cats were able to pull back a few breaks Iron Mandelas were always in control and took the game 8-11.
Pirates vs Iron Mandelas
Without a hefty supply of rum to use as distraction the Mandelas resorted to just playing some Ultimate. Beautiful skies from Dan Mcbride and a sickeningly good save from Andres demonstrated the power of the Iron Man suit. The Mandela handlers sliced through the Pirates defense early on in game 2 and with less females on board the ship (playing 5-2 mixed) the Pirates struggled to maintain the balance to keep their boat afloat. They rallied valiantly to stay in touch and had several chances to bring the game to within a point, the disc crossing the endzone line 3 or 4 times in a point the Pirates ended up conceding. However, the relentless speed of Mandela's attack and their ability to send it deep from anywhere on the field kept their noses in front throughout the match. Pirates never gave up and a late charge featuring plenty of layouts (Finlay Watsons bird like diving score was a particular highlight) gave them a glimmer of hope. The score didst tip and turn like a schooner in a hurricane but ultimately the Mandelas claimed the bounty, taking the win 7-8 as the clock ran out. This game had a slightly bizarre ending as the teams trialled the 2v2 tie break system, it was pretty exciting for the crowd but energy sapping for the players and the rules have been revised to 4v4 for any games still tied at the end of time.
Big Cats vs Farflung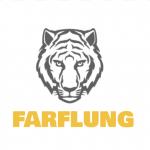 Big Cats faced up against Farflung with both teams looking to get off the mark. Unfortunately for Flung, the Cats were on the prowl and their refined long game got them off to a flying start. Flung were able to compete in most areas but found themselves constantly undone by their oppositions aerial presence (aka Mackie) and all round disc skills. Fresher Henrik Young and relative veteran Lucas Ferreira-Correia cut hard and moved the disc well but Flung suffered with reduced numbers for this game and quickly tired. As the game wore on Big Cats took advantage of the space underneath as Farflung tried to limit deep options. Flung ran out of steam and Big Cats took the win 11-4.
Farflung captain Jae Sng:
"The whole team learnt a lot from the Big Cats and we developed better cohesion throughout the days play".
Big Cats captain Matt T:
"Some new and old faces on Farflung was great to see and it was a very enjoyable game".
Spirit of the game
In honour of international spirit of the game day, each team awarded a prize to an individual opponent who displayed particularly high spirit on the day. Congratulations to Alice, Jae, Cammy, Lottie and Christine!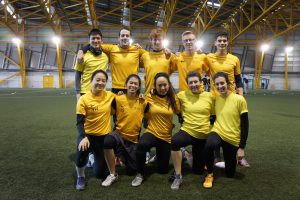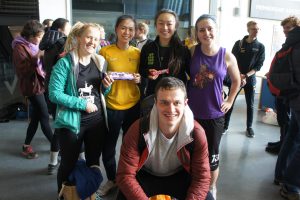 Table, Scores and Fixtures:
All the Indoor League info is available here.
Week 2 Preview:
The big showdown will be Pirates vs Big Cats with the victor taking prime position to challenge Mandelas for the title. Pirates will have a chance to exact revenge upon the league leaders in a must win second game for them. Farflung will once again field a mix of experienced and beginner players, success will depend on who turns up for them this week but we know they have a lot of talent in reserve. They'll be the underdogs against Mandelas in a top vs bottom game and will look to improve on this weeks performance in their rematch against Big Cats. Mandelas look unstoppable just now but the post Cone hangover is a stormy environment and can weaken even the strongest iron. Can anyone take down the league leaders? Are Cats meaner than Pirates? Will Farflung turn their fortunes around? All these questions and more will be answered this Sunday!