[singlepic id=36 w=200 h=160 float=left]February 22nd saw the initial advancement of the Glaswegian force heading towards Limerick, Ireland. The troops assembled in Dublin, dropped off courtesy of the air regiment where we proceeded to retrieve our chariots for the weekend. After splitting Glasgow company into our zafira and 'roomy' micras we marched into the night reaching our informant, who kindly put us up for the night.
[singlepic id=38 w=320 h=240 float=right]0700 hr rise. Final preparations began for the assault as we donned our sexy new kit and rode to the battleground.
Our first test: the Maynooths. D lines and O lines set, we made our initial push. A strong, steady score of points collected, with a few lucky interruptions. Glasgow win 13-4.
Next were the Ninjas. With their spirits high we had to maintain a strong sideline presence but they proved little contest to our pressure defence. Another win, 13-2.
This left us with our final pool game against another invading party, Nuts from Amsterdam. Their experience proved more troublesome to deal with but we kept our heads in the game, taking it to sudden death. Corporal Hudson pulled off a ridiculous layout grab at the second attempt to close out a close win 13-12.
So after battling through our pool, we were left with the final game of the day. The crossover. The fate of this game would decide whether we would have a shot at the big boys on Sunday, and of course we were looking for total domination. Entering the game pumped from inspiration from our captains, we hit the game hard. Trinity looked down, but were most certainly up for a fight. With many clutch grabs and big d's the game drew out the final seconds, ending with Glasgow victorious, 13-8. We're in the big league.
[singlepic id=37 w=288 h=216 float=right]After coming away from four for four, the troops celebrated with a bit of downtime. The local watering hole provided live entertainment, courtesy of Rusty Fixtures. Brilliant. This was then followed by a DJ set gone wild. A few of the boys headed into the dance floor ready to jam when the beginning of RAGE came on. We could feel the apprehension building, the testosterone filling, with the seal of fate coming from a random gangsta – 'Are we doing this?'. Boom, the beat drops resulting in a full blown mosh pit!
Sunday saw the troops falling back into rank, ready to brave the final line of defence. The Irish sent out their best infantry – the under 23's. This was for taking 1st seed, and the Irish were determined to keep it. Big points proved tough defence on both sides. Ireland went up two points, before our offence got on track but perhaps this was too late. Glasgow suffered their first loss in sudden death 6-5.
The games loss drained morale. We could see how close we were to taking it. But the team needed a boost. This called for goal hack!
[singlepic id=42 w=320 h=240 float=right]Next brigade was Rebel X. This was probably on par for most intense game of the weekend with the U23's, but was most certainly the one that solidified us as a team. Rebel came out firing hot while our heads were still low. Popping the discs in, they took a 6-1 lead. On the brink of giving up the half, Glasgow could take no more. Beast mode: Engaged! We brought out block after block to bring it back to sudden death.
The d line had one last challenge and we rose to it with Doug making a fantastic layout catch, finishing in an assist! Absolute high, 13-12.
[singlepic id=41 w=320 h=240 float=left]This pushed us on to our last game for taking 5th, against Rebel X's brothers: Rebel Y. We put up a big fight but unfortunately Y remained solid throughout their game and stood up to our man defence, sealing the game at 13-9.
Overall, we came away with 5 wins from 7. Very respectable for our teams first tournament I think. I'm very excited to see how the team progresses over the season and I'm sure we'll be able to pack a punch at Tour 1.
Highlights/lowlights outside of frisbee include:
Hypothermia endured by all in our hosts house. Swear I seen a tumbleweed too.
Pointy grab foot hand ball game.
Instigating mosh pit and crowd surfing then leaving.
Peter carrying all his luggage on himself, including boots.
Kev's need for longer sleeves for MVP stars.
Tom's goal hack 'skills' leading to his forfeit of waddling half a pitch in his boxers.
Doug's attempt to checking in 1 minute late leading to a 60 quid surcharge.
Free Whiskey at Prestwick Airport
Eating Dutch biscuits
Peters Fluffy Bunnies and odd socks
Winnie the pooh crowd surfing and finding Tigger
The wee fight in the corner of the pub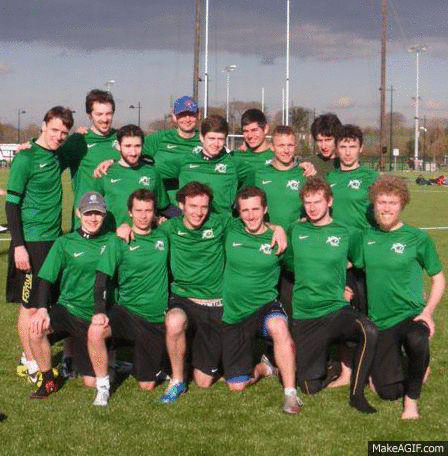 Tom was very excited to be in Ireland.
The 'Ultimate' highlight – winning from 6-1 down against Rebel!!
Well done to everyone on the team, made for a fantastic weekend. Special congratulations to the MVP's.
MVP awards:
Defence – Tom
Offence – Shaun
Report written by Lance Corporal Marky.