Location: St Albans
Date: 1/2 June 2013
Opponents: The B Tour
Game 1: Glasgow Ultimate vs Fusion
The big derby, both teams keen to prove that they are the best in Scotland. Both teams came out to prove that there is a difference from playing at Stirling to playing at tour, and they did. Both teams had some excellent plays, and excellent flow that many A-tour teams would have been proud of.
However there can only be one winner and Glasgow managed to edge it in the 2nd half after trading for most of the game and taking it 13-11.
Game 2: Glasgow Ultimate vs Zimmer
The new vs the old is what it could really come down to, the experience of Zimmer matched up against the youth of Glasgow (apart from Phil & Shaun). It was again a close game with both sides very evenly matched, Glasgow had the legs but Zimmer had the experience and the throws. It made it a very interesting game to watch and take part in. But all credit to Glasgow they dug deep in universe point to take the game 15-14.
Described by those on the pitch at the end as the match of the tournament it is not hard to see why by the score line.
Game 3: Glasgow Ultimate vs EMO 2
Expecting a big game from EMO hearing of their success against other teams in our group Glasgow came out to win. EMO showed us what 5 months of fitness was all for making us run hard and push already tired legs a little further. In a contrast from the last game Glasgow showed their experience and cool head to take the back to back game 15-6.
3 from 3 and we top our group to go to the quarter finals.
Game 4: Glasgow Ultimate vs Reading
If there was ever a wakeup call that we were in the quarter finals it was on Sunday morning matching up against Reading. Reading came out hard and pushed Glasgow and rattled the heads of 'The top 4' with throwaways and silly drops letting Reading get into the game. But Glasgow is not a group of individuals and some excellent performances from the rest of the team the dragged the now 'disappointing top 4' through to a comfortable win, 15-10.
Game 5: Glasgow Ultimate vs Manchester
Like the Zimmer game this was a very close encounter, however it was also very different. Both teams were evenly matched in all areas of the game, both had the throws, both had ambitions, both teams willing to fight.
Much like the Reading game Glasgow's regulars pulled the team through with no single individual performances shining through but the team working as a unit making solid decisions and converting points. However Manchester were also doing the same, probably more so taking half 8-5. So Glasgow dug deep and went on a D roll bringing the game back to a Universe point. A tense affair, a guaranteed place in A-tour at stake and a place in the final, but no need to be alarmed Glasgow were not about to give up now taking the game and earning a place in the Final.
Game 6: Glasgow Ultimate vs Zimmer
We have been here before, game of the tournament last time in the groups Glasgow winning 15-14. But this time it was the final. Like in many of our games of the weekend Glasgow went down, fighting to stay in the game, fighting to keep those hopes of glory alive. Glasgow is a fighting club and we fought back, but the experience of Zimmer shone through taking the correct decisions and converting their chances, taking the final 15-13.
Highlights of the weekend have to be the fact that in every game we showed a will to win. A burning desire to go out and give the other team a taste of pain, no matter if we were ahead or behind. Key performances from everyone on the team over the weekend contributing to us winning games when other players were underperforming, and an attitude of friends who want to compete, enjoy, win and have fun.
That's why no matter where you are in the country and no matter how good/bad, tall/small, old/young, Scottish/other you are when asked what team you want to play for, there can only be one answer.
Glasgow Ultimate.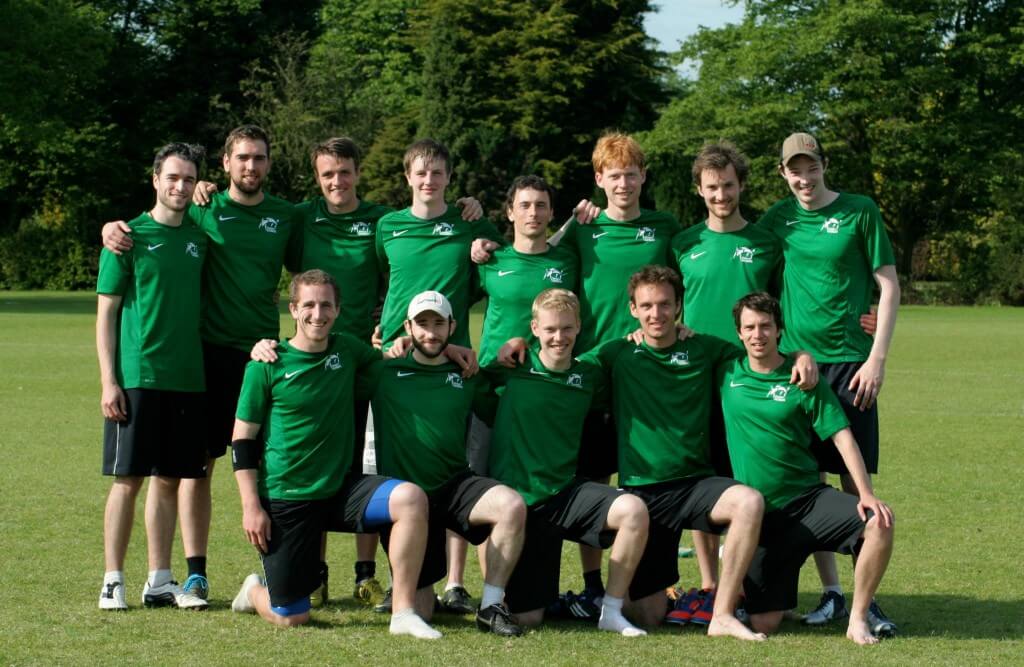 Report by Number 4 in the Top 4 Jonny Ferry.