We're glad you're joining us this season and want to let you know a few important points about what you can expect from the club, and your responsibilities as a member. Our goal is to provide opportunity for adults and juniors to train and compete at all levels from beginner to elite competition. This overview gives you a flavour of what is available to you as a member of Glasgow Ultimate, if you have any questions please get in touch through the club email address.
Click on the section headings to expand and collapse them.
Rules: Ultimate is self officiating so it's important that you know the rules and the variations for indoors in the UK.
Improving as a player: The training section of our website is what you need if you're looking for information to increase your knowledge and effectiveness as a player.

Ultimate specific conditioning workouts/programmes for strength, speed, and agility.
Recaps of training sessions and explanations of principles of how to play ultimate from a GU perspective. Use these to refresh your memory or to run your own training sessions.
If you haven't already, please fill out our membership form.
There is no Glasgow Ultimate joining fee, we charge enough to cover costs for the training and tournaments you attend.
Basic UKU membership (£6.50) is mandatory for all club members for insurance purposes at training sessions and tournaments. If you're new to the sport you're allowed 3 sessions to try it out before this is required.
By becoming a member of Glasgow Ultimate you agree to abide by the conditions set out in the documents below. Please take some time to look these over.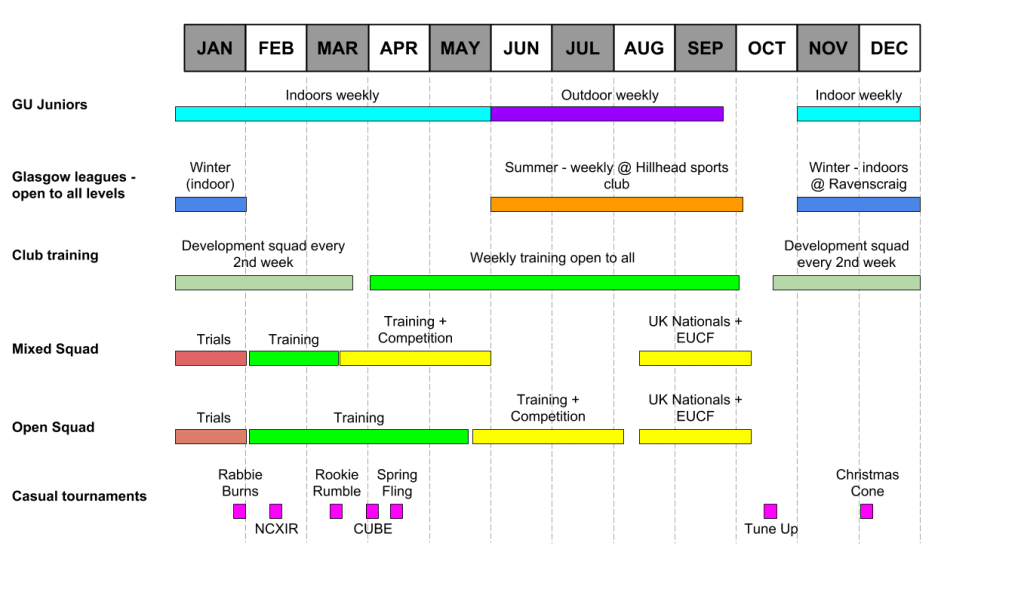 Juniors: For ages 8 – 18 we will be running weekly sessions throughout the year.
Pick up happens throughout the year and is organised on the Facebook group.
Local leagues: These mixed gender competitions are open to all standards and experience. Enter as an individual and we'll put you on a team. The sociable environment make the leagues the perfect way to introduce people to the Glasgow Ultimate community or the sport itself. Be on the lookout for sign up information closer to the time.

Summer league, outdoor, June to October @ Hillhead Sports Club
Winter league, indoor, November to January @ Ravenscraig.

Training

Club training sessions open to all members

Weekly during the summer season
Winter training depends on venue availability

Women's training and games: Glasgow Ladies Frisbee Facebook group

Competitive squads: Glasgow Ultimate aims to enter multiple teams into the tournaments that make up the UK domestic season.
Tournaments: Even if you aren't part of the competitive squads we will enter teams into tournaments if there is enough interest from club members. There are also a number of casual local tournaments that happen throughout the year that we will keep you informed about
Want to look the part? We place an order twice a year, usually mid-February and May, and discs are available to buy. This year we are starting a new kit partnership with
BE Ultimate
. While this will be required for first team players representing the club at tournaments, the basic Nike kit is still valid for all other competitions.
We really need and appreciate any help you can give to run the club or add anything to what we offer.
Do you have any skills or qualifications that might be helpful for the club? Any expertise you can bring to bear would be greatly appreciated, whether it's sport related, administrative, social etc. Please
fill out our register
so we know who to call on.
If you've been playing for a while and are just venturing into a club environment don't worry, everyone is very friendly and will give you any help you need. If you still have questions get in touch with the GU committee via email –
glasgowultimate@gmail.com
.
If you're completely new to the sport check out these highlight videos to see just what all the fuss is about –