For me, it's been quite easy to look at one sudden death point and a failure to make Nationals and think we regressed as a team this season. Having trained a lot but only played one competitive open outdoor match it's been a bit of a disappointing year personally. But when I started writing this report and looking at the year as a whole, I began to realise that there have been a lot of positives. So let's go back to the start…..
Indoors:
The 2013/2014 club season kicked off way back in October 2013 with the inaugural Glasgow Ultimate Elite League. The indoor portion of the league was a huge success and a great warm up for competitive tournaments for both university and club teams. The outdoor games suffered from fixture congestion and lack of numbers and the plan is to make this solely an indoor comp next season (more on that soon). Congratulations to Far Flung the eventual victors (going on to finish 2nd at university indoor UK nationals)!
Post-league training sessions allowed the open team to start planning their assault on the club indoor season and for the first time ever we were able to run a womens training session. By the time Scottish indoor championships came around both teams were ready to take on Scotlands best. The open team put on a convincing display to set up a rematch of the 2012 final against Panthers. GU went 2 points down early on but fought back to take victory, a much tougher game than the previous season. The 2nds also put on a brave display, taking some scalps, winning spirit and making the semi finals. Glasgow Vixens made their competitive debut in the women's division, finishing 4th.
Glasgow added further trophies to their cabinet with victories over Panthers at the Rabbie Burns indoor tournament and Black Eagles in the inaugural Scottish Mixed Indoor Championship.
The open team headed to UK indoor nationals with high expectations and an undefeated record lasting more than a year. Day 1 was tough but some hard fought victories (and a draw that almost ended in a fight) earned them a place in the quarter finals. Glasgow dispatched Reading with relative ease but couldn't claw back an early 2 point deficit in the semi vs Grand Hawks. We went on to take 3rd with victory over Fully Charged and finished the season with a single defeat. Vixens also put in an impressive display at Nationals, finishing in the top 8. A huge achievement for a group of girls playing their first season together.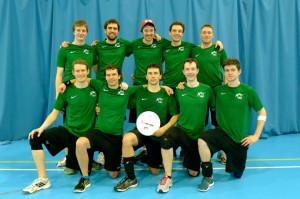 We also had the opportunity to play indoor ultimate with a whole new crowd. Several of us spent two weeks with the East Kilbride Disability Sports Club, teaching them to throw, catch, cut and score! It was tremendous fun and everyone was thrilled to be playing a new sport. We hope to get back there again soon and extend our coaching and outreach to local schools and other community groups. Thanks to everyone that helped out!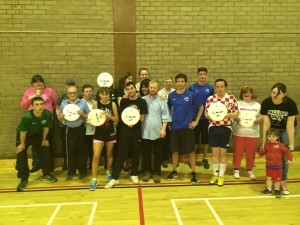 Beach:
A group of hardy foxes, missing many first team regulars, travelled to the least tropical beach tournament in the world to battle against the wind and rain in the sand dunes off the Aberdeen coastline. Despite a difficult first day and an epic nights partying they went on to find some Sunday form and claim the CUBE championship. You can read more about that weekend in Markys report.
Outdoor:
Winter training was fairly successful. We managed to run a training session on a synthetic pitch regardless of the weather nearly every week when there wasn't a tournament. Admittedly we struggled for numbers occasionally, and we'd really like to hear from people about what we can do to boost attendance at the Club sessions.
Glasgow entered all three Mixed Tours this season for the first time as Glasgow Ultimate. This was a massive progression for the Glasgow scene, allowing many to get their first taste of Tour. In fact, we even had a second Weegie team representing at Tour 2 in the form of Glue Factory (Horses alumni team). GU finished 11th at Tour 1, including a final game victory over Scottish rivals Black Eagles; 42nd at T2 , giving many new players experience; and 18th at T3, ending in 17th position overall. We will be aiming to finish higher next season with a specific focus on mixed and hopefully a second team.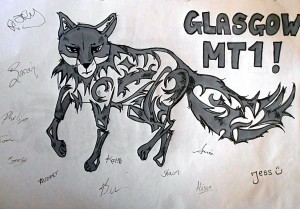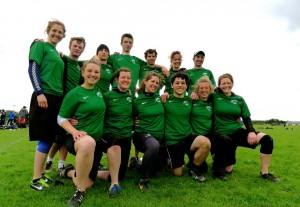 We capped off the mixed season with a GU summer holiday to compete at Windmill Windup in Amsterdam thanks to the efforts of Marky and Asif in securing us a place. The combination of it being their 10th anniversary edition and many teams using it as a warm-up for World Clubs meant the field was jam-packed with quality opposition. The vagueries of the swiss-draw system, taking advantage of the party atmosphere and getting an untested line-up to gel were all taken in stride, finishing 11th out of 30. We were the highest finishing team that didn't compete at worlds and came ahead of several that did.
Tour 1, as always, was a big focus for us and it went very well – 16th overall, 9th in the UK after adjusting for the visiting teams (various European champions preparing for worlds). We came very close to going even higher but lost out to a bit of experience from some established A tour teams. Unfortunately our more development-focused squad wasn't able to replicate this success at Tour 2 but it did provide us with some lessons and highlighted that we need to find a way to maintain our momentum throughout the season. Overall we finished 19th out of 68 teams despite only playing 2 of the three tournaments and saw a good number of players make their tour debut.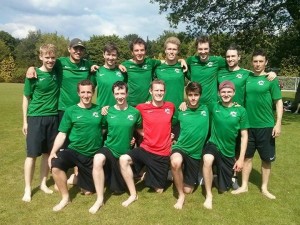 Tour 2 was very significant in that we were able to field the first ever Glasgow team in the Women's tour. It's hard to overstate just how difficult it is to go to tour with an inexperienced team and 1 or 2 subs but the team put in a heroic effort to be proud of and that's exactly how these things start.
Summer League returned in style this year with a 12 week extravaganza of mixed ultimate. This year we extended the league to last the length of summer with 4 squads (Irn Cru, Fever, Ravenous Midges and Mayhem) and over 70 participants. Our 4 captains did a great job encouraging everyone to play and developing their teams. There have been vast improvements in many individuals given the opportunity to play regularly and the teams all gelled well to give us a highly competitive finals week. Irn Cru were consistently the best team throughout the league but couldn't hold off Fever who were deserving winners on the day. Congrats to them, but also to everyone for making it a fun and well spirited event.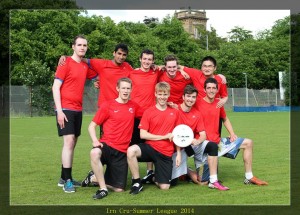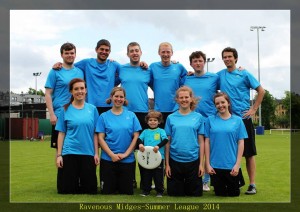 Glasgow played hosts to the Scottish Ultimate Frisbee Championships again this year, hoping to complete the double double. Going in as top seeds we hoped to win and qualify for nationals but expected a tough final against new boys NEO. We started slowly, going a few points down, but showed our famous fighting qualities to drag ourselves back in to the lead at half time. We then pushed on, taking the crucial post half point and extending our lead with the finish line in sight. With 3 chances to win the game and plenty of vocal support we couldn't have asked for a better opportunity to make Nationals. Perhaps it was tired legs, nerves, poor preparation, lady luck or a combination of them all. What we do know, is that we learned a lesson about winning and losing and we'll be back stronger in 2015. The real success of this tournament was getting 3 teams to enter and having 2 of them finish in the top 3.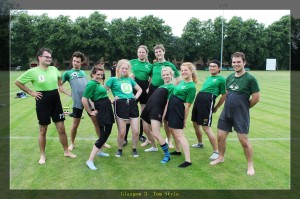 Although the first team couldn't quite get over the line we can be very proud of what we achieved overall and throughout the course of the season:
Multiple indoor championships, 3rd place at Open Nationals.
Won CUBE.
Competed at every Mixed Tour.
Formed a Women's team that finished 8th at Indoor Nationals and competed at Womens Tour.
Best ever finish at an Open Tour, ranked in top 8 British clubs.
One of only 3 UK clubs to represent at Open, Mixed and Womens Tour.
Hosted two Scottish Championships.
Hosted summer and winter leagues.
Finished 2nd and 3rd in Scotland.
When we look back on this season we will see this as the year that Glasgow Ultimate transformed from a team in to a club. Bring on 2015!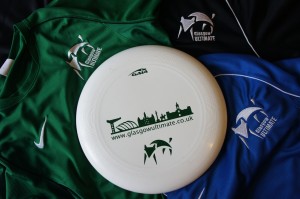 Written by Shaun , with contributions from Phil and Audrey.